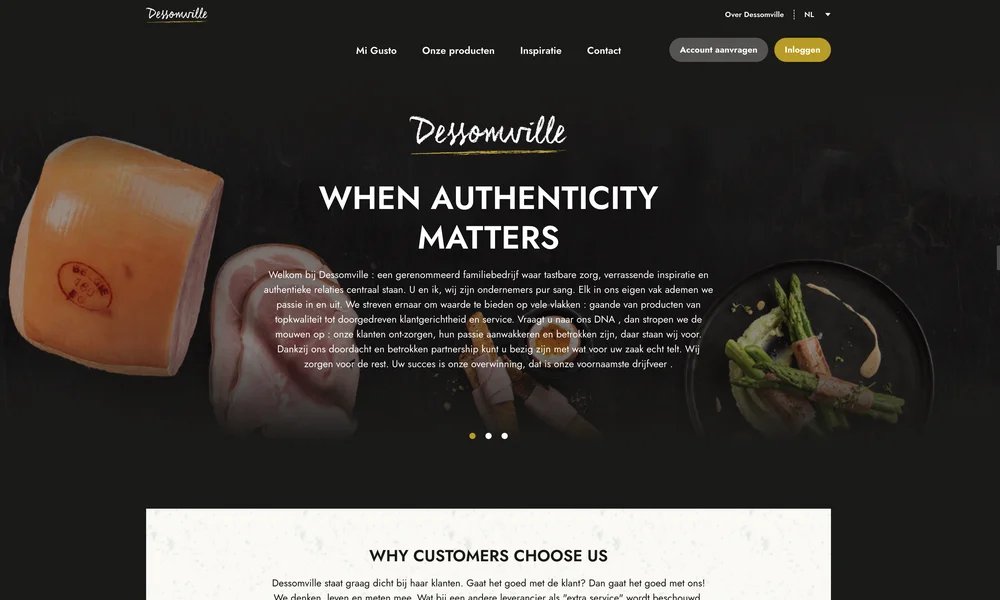 Case Study: Dessomville - Delivering Authenticity, Taste, and Service
Overview:
Dessomville is a highly regarded family business that has been providing a diverse range of fine charcuterie, fresh products, and specialty items to its customers since 1968. Founded by Marc Dessomville, the company has grown from a small warehouse adjacent to their home to a modern facility equipped with a fleet of refrigerated trucks. Dessomville is more than just a supplier; it is a trusted partner that deeply values the success of its clients. The company's core values revolve around tangible care, surprising inspiration, and authentic relationships.
Client Goals:
Dessomville aims to deliver exceptional quality and craftsmanship to its customers by curating a selection of products sourced from both local and international suppliers. The company has established its own quality label, Mi Gusto, which represents a meticulously chosen collection of products that have undergone thorough testing by a panel of experts. Dessomville strives to provide distinctive and unique offerings that create a lasting impression on customers and drive repeat business.
Key Features and Benefits:
Quality and Craftsmanship:
Dessomville takes great pride in selecting products based on authentic recipes and traditional methods. The company ensures that every item in its assortment meets the highest quality standards. By offering the Mi Gusto quality label, Dessomville provides customers with a guarantee of excellence, fostering trust and loyalty.
Service-Oriented Approach:
Dessomville goes above and beyond to cater to the specific needs of its clients. The company's team is known for their proactive mindset, actively seeking the best solutions tailored to each customer's requirements. Dessomville differentiates itself by its unique communication style and entrepreneurial spirit. It supports and encourages its clients to stand out by providing innovative and surprising actions, products, and marketing strategies.
Unparalleled Assortment:
Dessomville boasts a rich assortment of products that cater to a variety of tastes and preferences. By offering a wide range of fine charcuterie, fresh products, and other specialties, the company ensures that customers have an extensive selection to choose from. This diverse assortment enables clients to cater to their own unique customer base, enhancing their competitiveness and driving customer satisfaction.
Results and Impact:
Dessomville's commitment to authenticity, taste, and service has solidified its position as a trusted partner for those seeking exceptional culinary experiences. By curating a collection of high-quality products, creating the Mi Gusto quality label, and providing personalized service, Dessomville has garnered a loyal customer base that appreciates their dedication to excellence. The company's focus on individuality and character sets it apart from competitors, allowing clients to differentiate themselves in the market and attract discerning customers. Dessomville's reputation as a reliable and innovative partner continues to grow, positioning the company as a leader in the industry.
Future Outlook:
Dessomville is committed to its ongoing mission of delivering authenticity, taste, and service. The company will continue to expand its product assortment, ensuring that it reflects the latest culinary trends and customer preferences. Dessomville will further strengthen its relationships with clients, providing them with support and inspiration to help them thrive in their respective markets. By embracing entrepreneurship and remaining dedicated to its core values, Dessomville looks forward to sharing its passion for fine charcuterie and specialty products with an ever-expanding clientele.