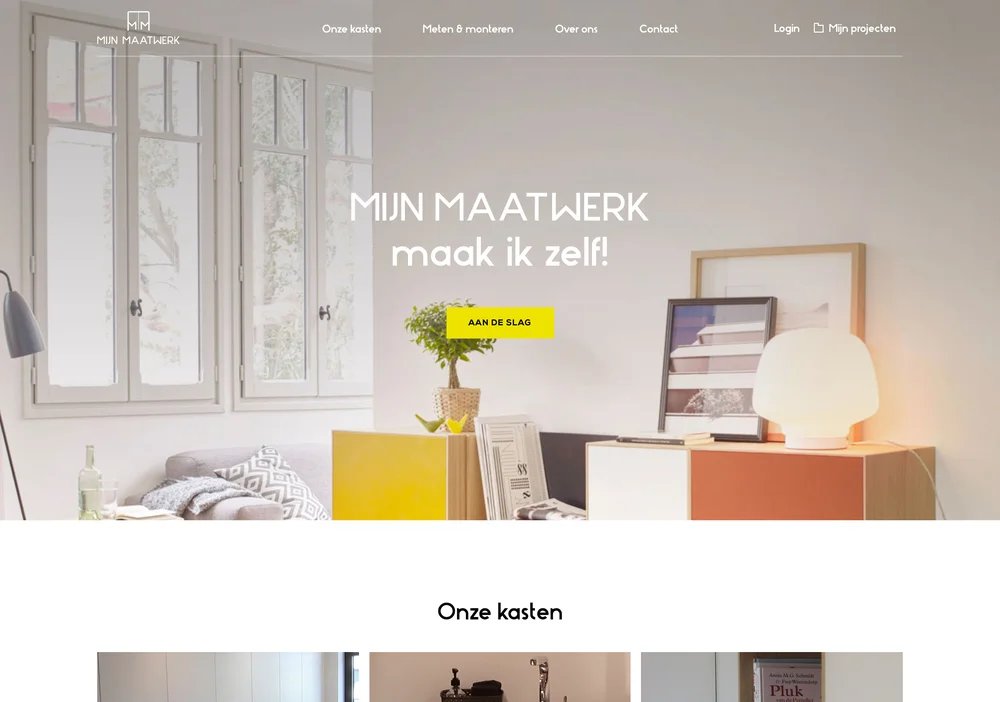 Case Study: Mijn-maatwerk.be - Empowering Custom Cabinet Design
Overview:
Mijn-maatwerk.be is an innovative online carpentry service based in Aalst, Belgium. Specializing in custom-made cabinets, the company provides an interactive platform that allows DIY enthusiasts and professionals to design their own cabinets using an intuitive configurator. Mijn-maatwerk.be offers a wide range of materials, colors, accessories, and layouts, giving customers the freedom to create unique cabinets tailored to their specific needs and style.
Client Goals:
Mijn-maatwerk.be aims to revolutionize the cabinet industry by providing a user-friendly platform that enables customers to design and order custom cabinets effortlessly. The company seeks to empower customers with real customization options, ensure high-quality products at competitive prices, offer flexibility and convenience in the design and installation process, and provide exceptional customer support and advice.
Key Features and Benefits:
Real Customization:
Mijn-maatwerk.be eliminates the limitations imposed by standard sizes and designs, allowing customers to design cabinets that perfectly fit their space and requirements. The interactive configurator enables customers to accommodate unique room features such as sloping roofs, ventilation pipes, or electrical boxes. This level of customization ensures optimal use of space and a seamless integration with the existing environment.
Quality and Affordability:
The company operates with a fully computerized machine park that guarantees precision, durability, and superior quality for its cabinets. By leveraging technology, Mijn-maatwerk.be can offer competitive prices that accurately reflect the value of the custom cabinets without any hidden costs or markups. Customers can expect long-lasting, high-quality products at affordable prices.
Flexibility and Convenience:
Mijn-maatwerk.be prioritizes customer convenience throughout the entire process. Customers can design their cabinets at their own pace and convenience, eliminating the need for appointments or waiting for quotes. Additionally, customers have the flexibility to choose self-installation or professional installation services. The company provides comprehensive support, including personalized manuals and assistance, to ensure a smooth and hassle-free installation experience.
Support and Advice:
Mijn-maatwerk.be boasts a team of knowledgeable professionals who are readily available to provide guidance and support. Customers can rely on the expertise of the team for advice on material selection, measurements, design recommendations, and placement options. The company offers a comprehensive suite of services, ensuring that customers receive the necessary support and expertise throughout their cabinet design journey.
Impressive Projects: Mijn-maatwerk.be has successfully executed numerous projects, showcasing its expertise in creating custom-made cabinets for various spaces:
Walk-In Closet: The company designed and delivered a walk-in closet that optimized storage space while maximizing natural light in a bedroom. The sliding doors, drawers, shelves, and hanging rods combined functionality with aesthetic appeal, creating a personalized and efficient storage solution.
TV Cabinet:
Mijn-maatwerk.be crafted a TV cabinet that enhanced the ambiance of a modern living room. The open shelves, closed compartments, and integrated LED lights created a cozy and contemporary atmosphere, perfectly tailored to the customer's preferences and requirements.
Kitchen Cabinet: In a small studio apartment, Mijn-maatwerk.be provided a custom kitchen cabinet that seamlessly integrated a sink, dishwasher, fridge, and microwave. The cabinet's design maximized functionality within the limited space, delivering a practical and aesthetically pleasing solution.
Results and Impact:
Mijn-maatwerk.be has revolutionized the cabinet industry by empowering customers to design and order custom cabinets with ease. By combining real customization, high-quality craftsmanship, affordability, flexibility, and exceptional support, the company has redefined the customer experience in the carpentry sector. Through its impressive portfolio of projects, Mijn-maatwerk.be has showcased its ability to transform spaces, optimize functionality, and reflect the unique personality and lifestyle of its clients. The company's dedication to providing quality, convenience, and expert advice has solidified its position as a leading online carpentry service, offering customers beautiful, affordable, and customized cabinets for their homes or offices.