THE BEST CONTENT MANAGEMENT SYSTEM
Web designers love Wagtail CMS (you probably do too...!)
With Wagtail, it becomes a pleasure to use your website every day
Wagtail content management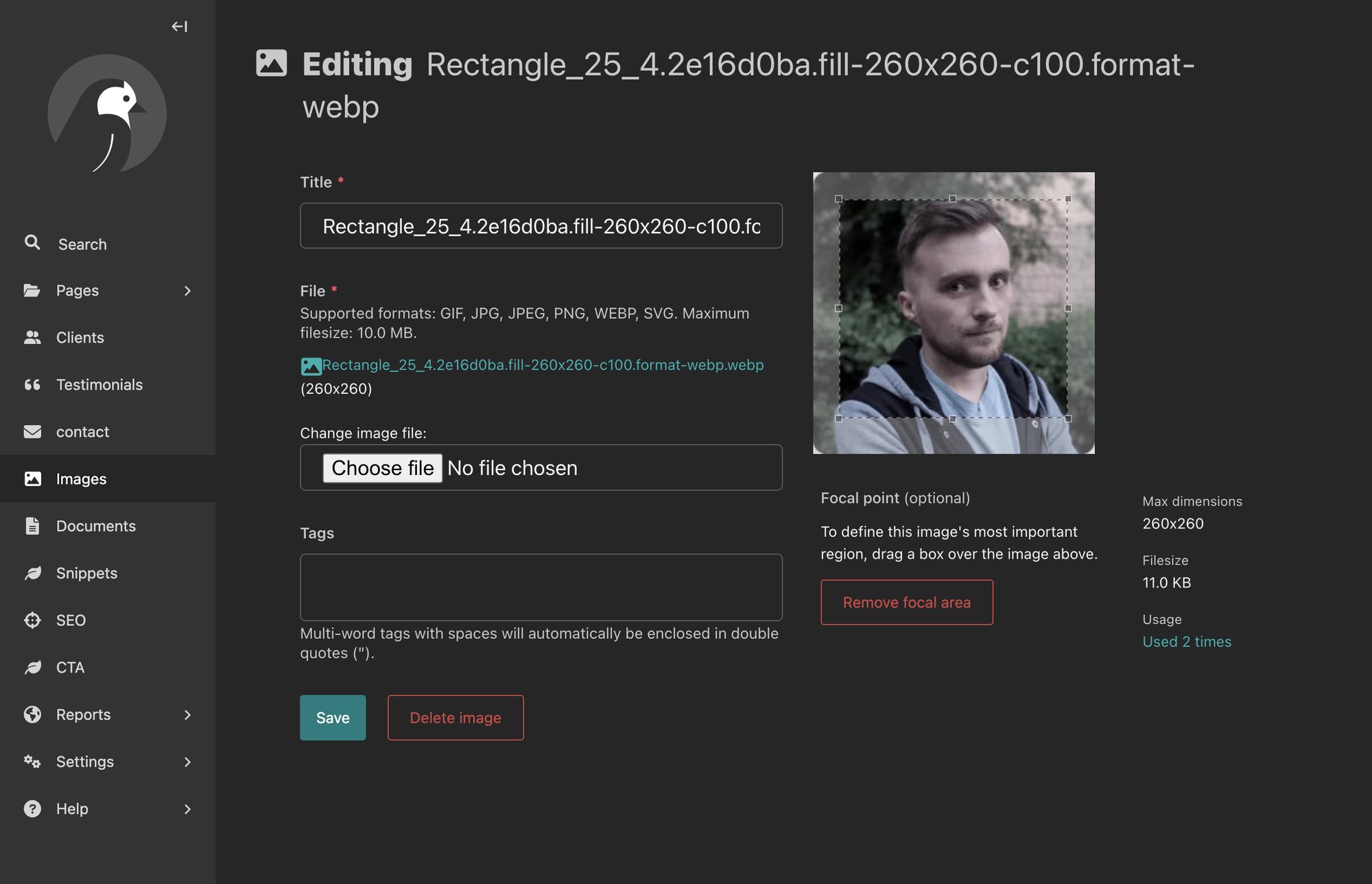 New clients often ask if we also offer Wordpress, Drupal ... websites. When we ask a bit more, they mainly want a user-friendly CMS that allows them to publish pages easily. This is why we think Wagtail is an ideal choice. For us, Wagtail is a modern and dynamic CMS. Where especially we can smoothly program all technical challenges. With the bonus that you will have a super user-friendly CMS. That is why we choose our web design services the number 1 CMS in the Python world: Wagtail.
What is Wagtail CMS?
Wagtail is a contemporary Content Management System built on top of the Django web framework. It has all the features you would expect from a modern CMS.
Tree navigation
Richtext content editors with possible extensions
Manage media materials such as photos and documents in one central place

Artificial intelligence implementation for recognizing photos
Point of interest focus area

Internationalization, easy to manage multiple languages

Integration with DEEPL for automatic AI translations.

Establishing workflow in the path from concept to publication for articles.
Backend is WCAG compatible, this for the visually impaired and blind people
Formbuilder so you can create your own forms.
Streamfields
Extensive rights system
Multisite capacity
SPA or MPA (headless CMS)
and much more ... (see on wagtail website)
What makes Wagtail so beloved by users?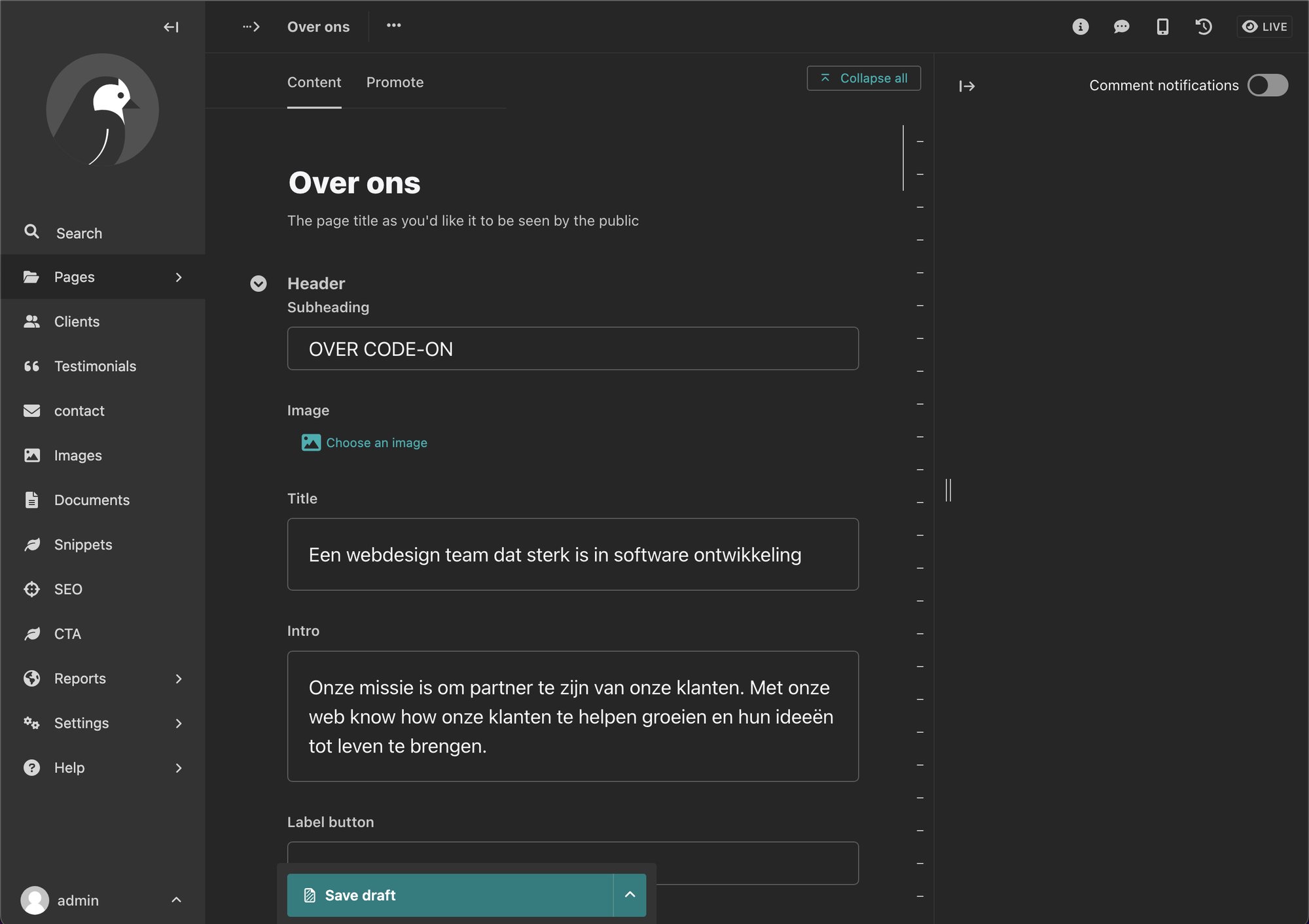 From a user perspective, Wagtail is an excellent experience primarily as a content editor. As a web developer, you can do anything with it that your imagination allows. For each component that you as a customer need, we can create small component programs. As a result, you are able to create ever richer pages. Ultimately this benefits the overall UX user experience. Your pages become more dynamic within the framework that we program for you.
Create SEO content with a team.
Wagtail lends itself very well to working on content and SEO with multiple people. This is thanks to the built-in content flows that you can set up as an owner. For example, do you work with a copywriter or a translator and have a proofreader? Well, with Wagtail you can easily set up these flows in the CMS. You can use the rights system to create certain profiles. When a page is created you can set up an automatic flow for this, so you can get reviews and approvals from the right people every step of the way. In this way the copywriter is always informed when he needs to edit a text and the translator is automatically involved at the right time. In addition, thanks to a comment system in Wagtail you can provide texts with comments within the team. And thanks to the rights system you are also able to split up these flows, for example if you work with different teams.
Web site modifications and enhancements.
Once your website is live, you may want to add whole new page types or other customizations or extensions within your system. Well, Wagtail, thanks to its Django architecture and modularity on both the frontend and backend, is easily customizable by your web developer. This also allows you to request new features all the time.
In most cases when we build a website there is more needed than just a website. It often needs to be integrated into a CRM or with an API. Sometimes we are allowed to build web applications ourselves for special business logic cases. Well, Wagtail is an excellent partner for these as well. More than that: it's the reason why we choose Wagtail in the first place and therefore one of the USP's.
AI chat GPT4 integration via API in Wagtail.
An integration of GPT-4 into Wagtail via API offers many opportunities for automating text-related tasks on your Web site. First of all, it is important to note that this integration requires a paid OpenAI account. With GPT-4 API, you have several options to optimize your texts for SEO, improve text writing, and automatically generate short descriptions and quotes by running CHAT-GPT or A/B tests to see which texts best suit your target audience.
The integration of GPT-4 API into Wagtail means that you can use this AI chatbot directly within your admin environment to automate various text-related tasks. For example, you can use the AI chatbot to generate short descriptions and quotes for your pages and blog posts. This will save you a lot of time and ensure that your content connects better with your target audience.
Another option is to use GPT-4 API to improve and optimize your website content for SEO. The AI chatbot can help you write texts that search engines can easily find and understand. This will lead to a higher ranking in search results and more traffic to your website.
With GPT-4 API, you can also run A/B tests to see which texts best match your target audience. By generating and testing different texts, you can improve your website's conversion rate and increase visitor engagement.
In short, the integration of GPT-4 API into Wagtail offers many opportunities to optimize and automate your website. It is a powerful tool to improve your content and SEO strategy while saving a lot of time. Talk to us and together we will explore the possibilities that AI is going to offer for your website.
Where does Wagtail come from?
She originated at the renowned UK Non Profit based web agency Tourchbox. The developers became frustrated with the existing popular content management systems like Wordpress and Drupal. Therefore, a few years ago they started building Wagtail as an Open Source project. Once Wagtail was stable, they made the choice to no longer work with Wordpress or Drupal, even though they had reputable NGOs there.
Since then Wagtail has become the #1 CMS in Python/Django land and a fast growing success worldwide. Torchbox and many others create large websites such as Oxfam, Nasa jet propulsion laboratory and smaller websites are built with Wagtail.
Conclusion
Are you looking at having a website created for your business or project, make your website content manager happy by going for Wagtail. In doing so, you are making an excellent choice.
Features of Wagtail
Quick
Wagtail is incredibly fast. Your website will therefore score excellent on speed
User-friendly
The CMS is very intuitive. No difficult states that cause you to misconfigure your CMS or need training to understand it first.
Content Management
Wagtail allows perfect teamwork on your content. You can incorporate revisions and approval processes.
Flexible
Building around Python and Django makes it easy for programmers to add additional features.
Open source
Because there is global support for Wagtail, the CMS continues to improve and we have confidence in the future.
API
Wagtail can be applied completely headless so that the website can be built entirely with APIs.
What does a Wagtail website cost?
When you ask for different quotes from webagencies you will get very different prices. That's because a lot depends on what services you need. Exactly how much custom development and design is required and how many design revisions? Are there API integrations? Does content need to be written? Does a marketing plan need to be created?

Code-on builds your website with Wagtail headless or SPA technology. This means that your website will use the most current and best techniques and will not only be super fast, but also has a lot of possibilities.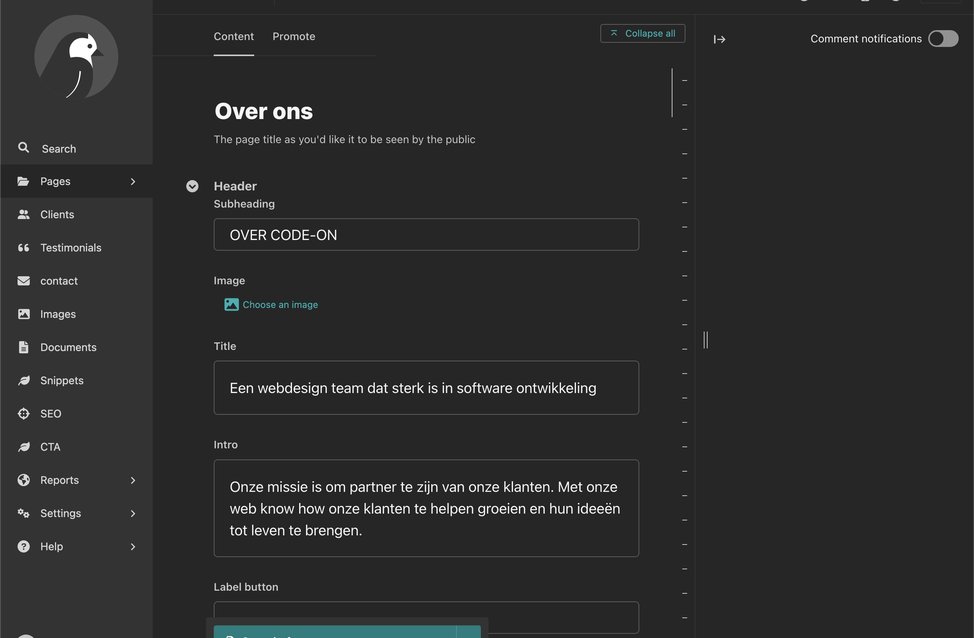 With Wagtail, our developers can quickly create the necessary components of a website and ensure that it features a very easy-to-use, user-friendly CMS.

Onno Timmerman
Manager Code-on